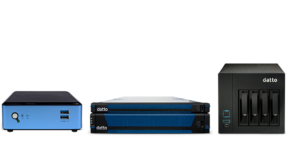 Data can be categorized into three tiers: critical (integral to ongoing operations), important (valuable but not mission critical) and archival (required but not typically retrieved). Usually, the customer just wants everything backed up. Of course this isn't possible at a reasonable price with today's technology. Most hard drives contain many gigabytes of data, most of which is non-critical and can be recovered from original distribution drives and other sources. Computers are not yet fast enough to prepare that much data to transmit over the Internet in a reasonable amount of time, and upload bandwidth is inadequate.
In addition to the time it takes to do a backup, we must consider the time it takes to restore, called the Recovery Time Objective (RTO). This is a more important number because it directly impacts a company's down time in the event of a disaster.
These are the questions you need to ask yourself, and of course we can help. Ask us about a BDR (backup disaster recovery) assessment! 
Network Concepts Corporate Office
215-723-3495

support@networkconceptsinc.com

326 N. Main Street




Souderton, PA 18964

Mon – Thu: 8:00AM – 6:00PM




Fri: 8:00AM – 5:00PM