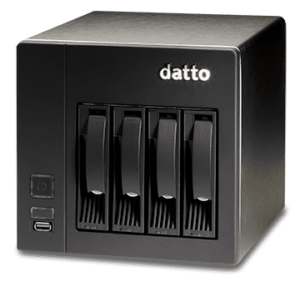 The Datto NAS is scalable network attached storage, that is backed up to the cloud.  
Snapshotting – restore files/folders from any point in time, locally or in the cloud
Hot swappable hard drive bays for scalability as your business grows.
Data is sync'd to the cloud ensuring your data is safe and available
Datto NAS Benefits:
Datto NAS features ensures fast, flexible restores and efficient Cloud storage for each backup. Built to Datto's exacting standards in the USA.
Datto NAS comes equipped with hot swappable hard drive drive bays to grow as your business grows.
Collaborate across multiple protocols
Need Windows, Mac and Linux users working together? It's easy with Datto NAS
Protect Large Datastores
Applications requiring large non-server storage – like video, audio, or image files – still need data protection.
User and Share Management
Create network drives in the control panel, add users, and assign users storage on shared resources.
Datto NAS integrates with Windows and preserves all Windows permissions so administrators only have to set security policies once.